The Ideal Solution for Remote Site Power
SUNPAK® solar electric generators are rugged, self contained power systems designed to provide continuous, reliable power in areas where conventional electricity is non-existent or unreliable. Each SUNPAK system is designed to pro- vide steady, clean power with sufficient storage capacity to continuously operate during extended periods of inclement weather. Systems can be pole, tower or rail mounted and come standard in a 12-volt configuration. Custom configurations are available to meet your equipment's specific requirements.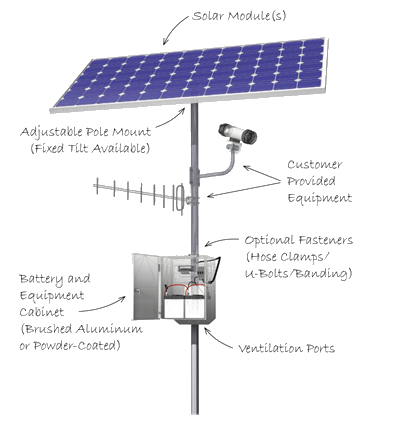 Engineered For Reliability
UL, FM Module Rating
Minimum 5 Day Battery reserve
40-Year Module Design Life
Fully Operational Between -20° to 50°C
Field Proven Components
Deep Cycle, Maintenance-Free Batteries
15+ Year MTBF on Controls
Pre-assembled and Factory Tested
System Features
| | | |
| --- | --- | --- |
| Solar Array | | Charge Controllers |
| Exclusive high performance PV modules are specifically designed to exceed solar industry standards (JPL Block V) for durability in the harshest environments. They have a proven 40-year design life, along with a weatherproof J-Box and corrosion-resistant frame. PowerUp modules are UL listed for electrical and fire safety and also FM approved for Class I and II Group D hazardous locations. | | The charge controllers are solid state and fully encap- sulated. Features include temperature compensation, LED status indicator, corrosion resistant terminations, lightning protection, reverse current protection and low voltage load disconnect to ensure long battery life. |
| | | |
| Batteries | | Enclosures |
| Batteries are maintenance-free, valve regulated, sealed lead acid and are specifically designed for deep cycle photovoltaic applications. All SUNPAK systems have sufficient battery capacity to operate for a minimum of five days without charging. This assures the ultimate in system reliability for providing power to the load. | | The enclosures are available in 3R, 4X or a combination of both and are also available with a powder coated finish and padlock-able door. Our enclosures provide long life protection for electronics and batteries. Optional fiberglass enclosures are available. |
How To Select the Right SunPak System
1. Locate the sytem site on the insolation map below.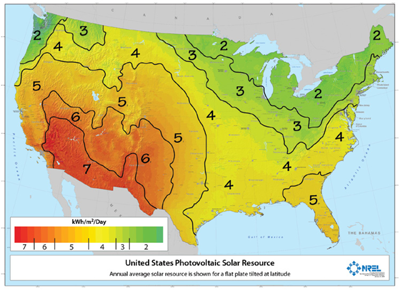 2. Determine how many amp hours per day your equipment will draw by multiplying the operating current by the length of time in hours (or fraction of hours) that the equipment will operate.
3. Go accross the daily amp hour row in Table 1 shown below until you reach the adjusted amp hour requirement. Go down to the appropriate weather zone. The letter will have a corresponding model on the SunPak Model Number chart further below.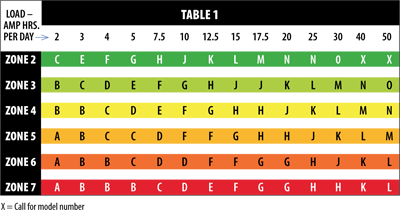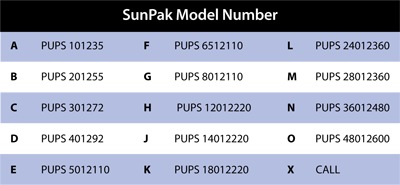 4. Once you have determined the correct model number contact us for pricing or further information.